Love Grows Here
A message from Pastor Sherry
Pastor Sherry Morrison-Russell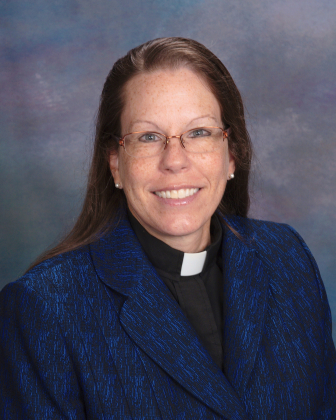 In April of 1521, a monk named Martin Luther was put on trial by the Roman Catholic Church. He had been severely critical of the pope, questioning the validity of some of the sacraments and denouncing church corruption.
An archbishop was given the job of examining Luther, and he asked him, "Martin, how can you assume that you are the only one to understand the sense of Scripture? ... You have no right to call into question the most holy orthodox faith... I ask you, Martin — answer candidly without horns — do you or do you not repudiate your books and the errors which they contain?"
Luther replied, "Since, then, Your Majesty and your lordships desire a simply reply, I will answer without horns and without teeth. Unless I am convicted by Scripture and plain reason — I do not accept the authority of popes and councils, for they have contradicted each other — my conscience is captive to the Word of God. I cannot and I will not recant anything, for to go against conscience is neither right nor safe. Here I stand. I cannot do otherwise. God help me. Amen."
At this trial, Luther was convicted of heresy. Anyone caught following him was to be condemned. But Luther and his followers were not crushed — they went on to lead the Protestant Reformation, the movement we commemorate today. We can be grateful that Luther took a stand for what he believed in and worked tirelessly to bring the word of God to common people, so that they could develop deeper faith in Jesus Christ.
Faith was the key to Luther. In his own study and translation of the Bible, he discovered that faith is essential to an everlasting relationship with God. "We are saved by the grace of God, through faith in Jesus Christ," he proclaimed. Faith is the attitude that enables us to hang on to Christ, according to Luther; it is the way we gain access to the saving grace of God. Faith is best defined as "trust," he said; it is a willingness to rely on Jesus through all the challenges of life.
Join us this weekend for Trunk N Treat on Saturday afternoon and Sunday for worship at 9am with ELW setting 8 and Contemporary at 11am. Taylor Benson, Meredith Tipton and Justin Roose will receive their Bibles during worship this Sunday. We will also celebrate and send off Sneha George at 10am.