Love Grows Here
A message from Pastor Sherry
Pastor Sherry Morrison-Russell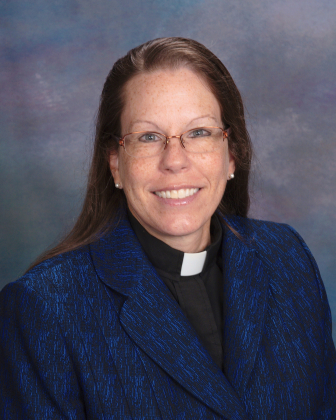 Gracie Allen [the wife and comic partner of comedian George Burns] was a brilliant and perceptive woman. She left a message in her papers to be discovered by her husband after her death that has become the motto for the United Church of Christ: "Never put a period where God has placed a comma."
Gracie was encouraging George to remember that life had many chapters. George was 68 when Gracie died. Rather than place a period after his career, Burns went on to star in a number of movies, including playing God, twice. He even headlined at Gator Growl in the 1970s. He died at age 100, having lived the life of the comma.
Way back when the Pilgrims sailed from Holland to the new world on the Mayflower, their pastor John Robinson, who was forbidden to go with them, sent them off with another momentous phrase, "There is yet more truth and light to break forth from God's holy word," a forerunner of the comma.
—Larry Reimer, "An update on the comma," The United Church of Gainesville Web Site, May 7, 2006, ucgainesville.org.
Matthew 5:12 Rejoice and be glad, for your reward is great in heaven, for in the same way they persecuted the prophets who were before you.
On this All Saints weekend, we will experience ELW setting 8 liturgy at the 9 am service and the contemporary service at 11 am. On this All Saints weekend, we will name those who entered the church triumphant this past year and we have invited a family member or friend to light a candle in their memory. We will also recognize those new saints who entered the church militant this year with the same candle lighting.
Next week we begin our Stewardship Drive: Extravagant Generosity: the Heart of God. Every member will receive a letter in the mail along with a card inviting them to write down what you love about our church. This is for our children, youth and adults. There will be someone outside the Sanctuary to collect these cards. We would like to post these along the walls at Cross for others to see and receive inspiration.